The M1-2R2VI-DU is designed to be used with high resolution Dual link DVI source and large panel display, such as 30'' apple cinema display (2,560X1,600). It performs DDC/HDCP interconnection over CAT5 with R-J45 connector and transmits Dual link DVI grap
---
Description:
The M1-2R2VI-DU DVI Module is a new member of the Opticis family of products that stretches your DVI connectivity. Differently from others, it offers a fiber-optic long-distance extension of dual link DVI connectors. DDC connection is implemented over a UTP cable with RJ-45C, which makes it easier to install.
The reality of high-speed digital graphic interconnections mandates products to maintain video quality and cost effectiveness of integrated display systems. Optical technology for gigabit digital transmission makes it simple to extend digital graphic data above the extension limits of copper wires providing pure signal integrity for an ideal visual experience, no EMI/RFI emissions, light weight, rugged cabling and connectors, low power consumption and installation ease.
The extension system consists of transmitter and receiver module boxes with female dual link DVI-D plugs, being able to connect PCs (Media Receiver) and displays (Monitor or HDTV) by dual link DVI-D copper cables respectively. 3 duplex LC patch cord fiber cables enable to transmit graphic data, 7 channels of dual links including a clock and a UTP cable with RJ-45C plugs enables to manage power and EDID/HDCP parameters. Internally, Opticis optical technology - the transmitter's 850nm VCSEL array and the receivers Pin-PD array, are concealed within the connector housings.

Features:
Support up to 2,560x1,600 resolution at 60Hz refresh rate.
Fiber-optic cables with 8 LC or 4 duplex LC fiber connectors are required to transmit Red, Green, and Blue, 3 channels for each link and one clock.
Extension distance is 100 meters (328 feet).
Light weight detachable cables with secure connectors for fiber and copper.
No software to install - plug and play simplicity.
Low EMI/RFI emissions and inherent fiber data security.

Applications:
Color LED signboards and panel information displays for airports, stadiums and outdoor advertising.
Digital Home Theatre Systems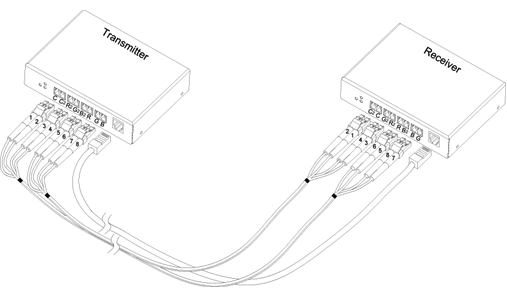 Keywords:DVIExtender M1-2R2VI-DU Duallink OpticalDL