M1-201DA-TR is capable of driving uncompressed WUXGA (1920x1200) 60Hz DVI signal up to 1,500m (4920feet) over a duplex LC single-mode or 500m (1640feet) over a duplex LC multi-mode fiber. The key features of M1-201DA-TR is, by using an optical passive spl
---
Key Features:
Extends all VESA resolution up to WUXGA (1,920 X 1,200) 60Hz DVI data up to 1,500 meters (4,920 feet).
Applicable to both single-mode and multi-mode fibers.

Up to 500m with duplex LC multi-mode fibers.
Up to 1,500m with duplex LC single-mode fibers.

Offers self-EDID programming feature, detecting from a display and restoring to an EEPROM in the transmitter just by plugging to the display without any physical DDC connection.
The modules are compact enough to directly plug to graphic sources and displays by adopting DVI-plugs.
Includes two (2) +5V DC power adapters for the transmitter and receiver, one for each end.
Certifies FCC and CE standards for EMI/RFI emission.
Data security with negligible RFI/EMI emissions and loss of video quality due to no copper conductor present.

Applications:
Digital FPD, PDP and projector installation in conference rooms, auditoriums and for kiosk systems.
Digital display system integration for medical, military, aerospace, factory automation, and traffic control platforms.
Individual and Multi Screen video signboards for large scale information displays, indoors, outdoors, stadiums.
Home Theatre Systems.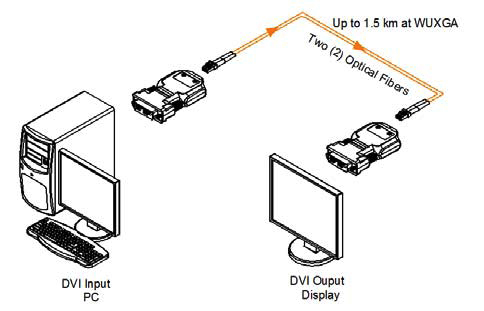 Keywords:M1-201DA-TR Opticis DVI-Extender-Duplex-Fiber